Plumber Services in Azle, TX for Leaks, Clogs & More!
There are a wide range of repairs that can be needed when talking about your plumbing system. These repairs can range from a leaking faucet to a sewer system that needs a full line replacement. While some of these problems may simply be inconveniencing you, there are also times when you need a plumber to do major repairs. Call Double L Plumbing today for any and all of your plumbing repair needs.
Professional Plumbing Repairs
When you have a big plumbing problem, you need to turn to professionals that you can trust. All of our technicians have received extensive training to give you the confidence that your issue is being handled with the appropriate care. Don't take risks or cut corners when it comes to your plumbing repairs, as often you can easily make a simple problem worse just by waiting and not taking action.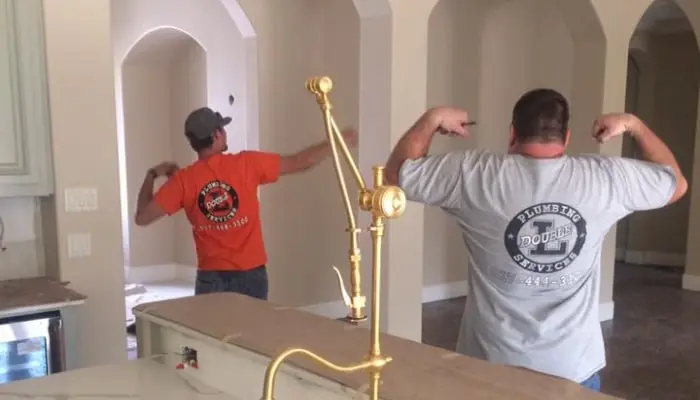 Our Plumbing Repair Services
Your plumbing system is a large network that encompasses a great deal of individual areas that may need repair. Double L can handle them all! Just call us and we will be there to handle your plumbing concern. Some of the most common repairs we handle include:
Leaking Pipes - Our services to repair leaking pipes are fast and effective. We believe in long term solutions that make sense for your pipes as well as your pocketbook.
Clogged Drains - Over time, pipes and drains have buildup and get clogs that can lead to problems with your pipes. Our services can fix areas that are prone to clogs so that your system can flow smoothly.
Drain Cleaning - When you have a drain that becomes clogged, the team at Double L will be there! Our drain cleaning services will keep your pipes clean and free of clogs and buildup.
Have High Water Bills?
One issue that many people have is a monthly bill that is much higher than it should be. If that sounds like your situation, you should probably reach out to get an evaluation of your plumbing system to see if you need repairs. Many individuals have old systems that are giving them poor results and may be on the verge of a much bigger issue.
817-444-3100
Your Go-To Plumber For Repairs
If you have an immediate problem that needs repairs, we can handle it right away. We do repairs for septic systems, sewer lines, water heaters and more. Just call us for any type of plumbing problem for reliable and quick service.
Why Choose Double L?
We are a small, local business that provides big, professional service!

Our plumbers are highly trained and experienced so you can rest assured that we know what we're doing when it comes to your plumbing.

We are open on Saturdays for your convenience.

Our seniors and veterans are important to us, which is why we offer a 10% (up to $100) discount on services.
Let's Get Started