Best Pipe Leak Repair In & Around Azle
Faucets, water heaters and other basement pipe systems are the most common water leak situations homeowners experience. However, there are many different locations at your house or business where a pipe might be leaking, for example, behind a wall or beneath a floor. These are the most dangerous because you aren't aware of the problem.
If you're experiencing a leaky pipes situation, get in touch with Texas's favorite plumbing contractor: Double L Plumbing. Our technicians always provide the best and most efficient solutions that fix pipes leaks right away.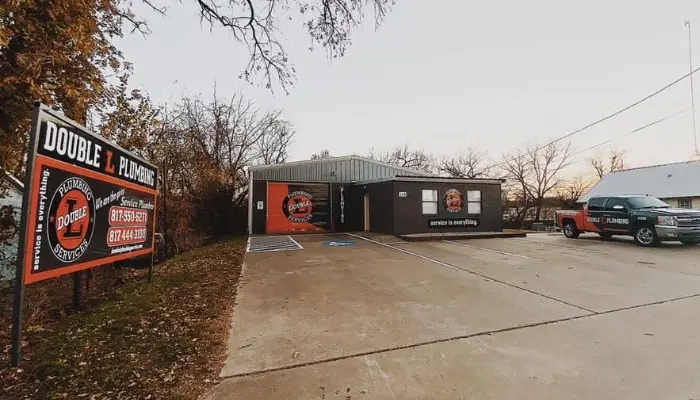 Can you fix a leaky pipe without replacing the pipe?
In some cases, a leaky pipe can be fixed without replacing the entire pipe. Minor leaks can often be repaired using pipe repair clamps, epoxy putty, or pipe wraps. For small leaks at joints, tightening the connections might be sufficient. However, for significant leaks or extensive pipe damage, replacement might be necessary. Consulting with a licensed plumber is essential to assess the severity of the leak and determine the best course of action to ensure a lasting and effective repair.
What is the best way to fix a leaking pipe?
The degree of the leak and the type of pipe determine the best method for fixing it. Pipe repair clamps, epoxy putty, or pipe wrapping might offer short-term solutions for minor leaks. However, it's advisable to switch off the water supply, drain the pipes, and get a certified plumber to examine the problem and make the necessary repairs if there are substantial leaks or damage. Professional plumbers have the knowledge and equipment necessary to locate the leak's origin and offer a long-lasting fix that will stop additional damage.
Can I fix a leaky pipe myself?
Fixing a leaky pipe yourself is possible for minor leaks and if you have some plumbing experience. Simple repairs like tightening connections or using pipe repair clamps or epoxy putty may work for small leaks. However, for significant leaks or if you are unsure about the repair process, it's best to consult with a professional plumber. Attempting complex repairs without proper knowledge and tools can lead to further damage, potential safety hazards, and increased repair costs. Safety should always be a priority when dealing with plumbing issues.
What's a Water Pipe?
A water pipe is any tube designed to deliver water to consumers. There are many types of water pipes, including large main pipes that can supply entire towns and smaller branch lines that supply your home or business.
How Water Pipes Work
Water enters your home through the main water line, which is a large pipe buried underneath your property. Then, the water is divided into smaller pipelines that transport it across your home.
There are two basic plumbing systems: one that brings fresh water in, and one that takes waste water out. Both are connected to your sinks, showers, dishwashers, toilets, etc. The water is under pressure to move quickly around corners, upstairs and wherever it's needed.
What Should I Do In An Emergency?
In a plumbing emergency, it's vital that you quickly close the main water valve. Otherwise, your house can get flooded in minutes. However, if the emergency is restricted to one area, e.g., the toilet, you could close its individual stop valve.
When Should I Contact Double L Plumbing?
Leaky pipes are one of the most common plumbing repair processes, and they can be caused by:
Incorrect Pipe Laying - Pipes that are laid incorrectly can create major damage beneath your home or in your walls.
Pipe Corrosion - Pipe corrosion happens when piping material breaks down because of its environment. It's advised to monitor the oxygen levels in your water because oxygen leads to rust. Corrosion can also cause buildups and blockages in your pipes.
Broken Pipes - Tree roots can grow into your underground pipes, causing significant disruptions to your water pipes.
Excessive Water Pressure - High water pressure causes long-term damage, leading to small leaks and even pipe bursts. Besides, when your water pressure is too high, you're wasting water. As a result, you'll have to pay higher utility bills.
817-444-3100
Quickly Repair Leaky Pipes With Double L Plumbing
If you suspect you have leaking pipes in your house or business, you should take care of the problem right away. Double L Plumbing is the leading company in the Parker County area when it comes to plumbing and pipe leak repairs.
Don't delay repairing your leaking pipe issues as you may risk damage to the belongings inside your property and the problem could worsen. Our plumbers have been trained to diagnose and repair any problem and exceed our customer's expectations.
Get in touch with us today!
Let's Get Started